When:
April 20, 2021 @ 6:00 pm – 8:00 pm
2021-04-20T18:00:00-04:00
2021-04-20T20:00:00-04:00
Where:
Columbia Fish & Game
4339 Fairview Rd
Columbia, PA 17512
USA

Contact:
Ralph Carruthers
(717) 629-5082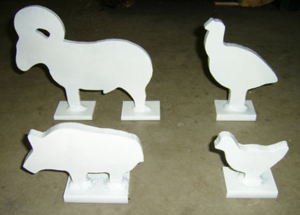 Starting April 20th (April 1st start date was canceled) we will be starting the .22LR Silhouette Fun Shoots at Columbia Fish & Game. Here are the details:
These shoots are open to the public, no charge.
They will start approx. 6:00 PM.
You need to supply a working/safe 22 caliber rifle and ammo for it. If you are new to 22 shooting and do not have a rifle, please call my cell phone and we can work something out.
There will be a safety meeting for everyone prior to shooting.
Ear and Eye protection is required. Again, if you do not have any let me know and I can fix that.
We will be shooting various reactive targets on the rifle range. When they are all down, we will set them up again and repeat as many times as we can.
We will stop shooting as close to dusk as possible. That will vary depending on the day.
If we need to cancel due to weather, I will try and get an email out to everyone before noon the day of the shoot.
No age limit, but children must be supervised at all times and they must be able handle, control, and fire a ..22 rifle in a safe manner to participate.